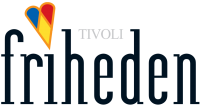 Aarhus, a cozy city full of charm
We're top fans of Tivoli Friheden, that's why we choose this place as the second stop of our worldwide tour.
The amusement park is located in the stunning Marselisborg forest, within walking distance from the Aarhus city center, in Denmark's eastern coast.
Aarhus is the second-largest city in Denmark. It also concentrates some of the most exciting spots in the region, such as the port, which is a major attraction in itself, with the bustling Dokk 1 Cultural Center, or landmark buildings such as the Iceberg ("Isbjerget" in Danish).
You can also soak in the harbor baths ("Havnebadet") designed by Bjarke Ingels, so don't forget to take your swimming costume!
But the city offers many more surprises and places that worth a visit, such as the open-air museum Den Gamle By, containing dozens of historical buildings representative of the whole country. There, it's possible to see people dressing traditional clothes, and practicing activities from other times. Nearby, you'll find the Botanical Garden, and its characteristic greenhouses.
The centrally located ARoS art museum will probably surprise you with its gorgeous architecture and contemporary works by artists worldwide. Other "must-see" visits are, without a doubt, Moesgaard Museum, with exhibitions on ancient local history, and Aarhus' Cathedral, not far away.
Finally, we still need to add to this list of top places, the iconic amusement park Tivoli Friheden!
Tivoli Friheden, a park full of history and new experiences!
Despite its size, Tivoli Friheden is the most visited cultural institution in the city, receiving around 630,000 guests annually.
We've talked to Kasper Norup Sørensen, its Chief Technical Officer, to know more about the park and the special recipe for such success.
He highlighted the wide range of attractions, from the four roller coasters, to around 40 rides, combined with multiple outdoor games, and playgrounds. The open spaces full of nice trees and colorful flowers change throughout the year, fostering a new experience every time.
Each amusement area has a different character. Indeed, some attractions have that vintage taste, typical of a park with more than a hundred years of history. Dating from 1843, this is the oldest park in Europe, and is among the world's oldest. Perhaps, this fact explains why some people describe their experience as a journey through time. But don't be mistaken, it has nothing to envy to more recent facilities!
What's more, the park offers a vibrant atmosphere for concerts and events. Its open-air Pantomime Theatre, originally built in 1874, hosts around 22 annual shows, mostly performed by local artists, according to Kasper.
Besides, three major events are celebrated during the year, namely, the Flower Festival (in July), Halloween (October), and Christmas (in November and December), which keep busy Kasper and his team, in charge of the proper operation and condition of all installations of the park.
Designing rides with SBI products
Tivoli Friheden is an excellent example of how to create fun and exciting attractions using SBI products.
On the one hand, they offer the family ride Motorbådene a boating experience in one of their lakes. Ten SBI motorboats are available for having a pleasant boat tour, a ride designed for the entire family as practically all can drive, no matter the age.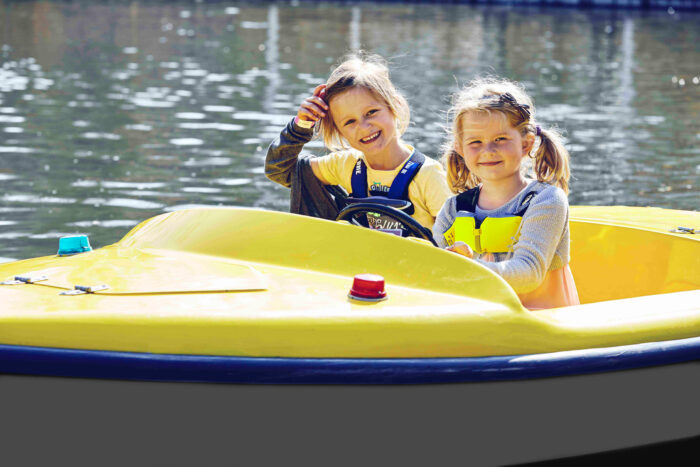 On the other hand, the facilities include the driving school concept through two tracks equipped with our cars.
Little Billeby is a ride oriented to the youngest guests. The kids try to drive around and learn how to start, steer, and stop the car. The model chosen here was our Buggie, a 12V classic vehicle personalized according to the theming.
Big Billeby was designed for slightly older children, and it's equipped with traffic lights, signage, and 24V cars (SB Aqua model). Kids must first obtain the driver's license, so they receive a theory class in a room equipped with a big screen. After passing a fun interactive driving exam, they receive the card with their name and picture. At the track, our cool vehicles are waiting for them to test their new abilities!
When asked whether children like our vehicles, the response was:
Covid-19 Information
Within the Covid-19 pandemic context, a safety plan was designed for the entire park, including the following actions:
Reduced the number of admitted guests in the park.
Reduced capacity for some rides
Used special protection in rides.
Defined queuing systems to guarantee safety distance between guests.
Provided hand alcohol at entrances and exits, at rides, restaurants, and toilets.
Provided protective equipment for operators.
Foreclosure of restaurants and stalls.
Installed safety signage throughout the park.
For any update, we suggest to contact the park, or visit its website and social media.
Quick info: 
Address: Tivoli Friheden. Skovbrynet 5, 8000 Aarhus, Denmark.
Telephone: +45 86 14 73 00
Email: tivoli@friheden.dk
Web: https://friheden.dk
Instagram: https://www.instagram.com/tivolifriheden/
Facebook: https://www.facebook.com/TivoliFriheden/
Other websites of interest:
*** Special thanks to Tivoli Friheden park and Kasper Norup Sørensen for all information provided and courtesy. ***
Did you miss the first stop of our trip? We covered Sweden and Skara Sommarland.