Borås Zoo Consolidates Attractions and Shift to a Self-Service Payment System
A short trip from Gothenburg, Sweden's second-largest city, travel some 40 minutes by car and you reach the city of Borås. The city is historically known as the textile capital of Sweden and although the textile production isn't significant anymore, the heritage is still there. Hence, it's not surprising that the Swedish School of Textiles is part of the University of Borås. The city also used to be known for its traveling salesmen, "knallar", that later evolved into mail-order companies. 
One of the main attractions in the city is Borås Zoo that hosts about 400 animals of 45 different species. With about 200 000 visitors per year, it is one of Sweden's most visited Zoos and it is also highly active in the European Association for Zoos and Aquaria (EAZA). The zoo attracts primarily families with younger children but there are also schools visiting the park, and locally there are many annual passes sold. For visitors that are hungry for more fun and activity there is also neighboring zipline attraction Upzone, and indoor play center Leos Lekland in the area.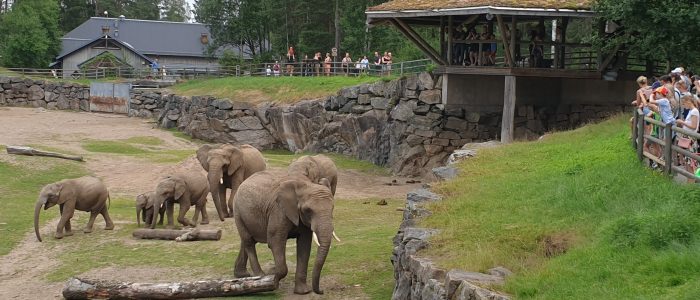 The proximity to Gothenburg is good for the park since the west coast draws a big crowd of people in general during holidays and in particular hosts the popular amusement park Liseberg which is Sweden's most visited attraction. For families, it's great to combine the two parks in one trip to get two different kinds of experiences.
The history of Borås zoo is quite interesting. Back in 1958 the Borås inhabitant Sigvard Berggren came home from one of his many trips to Africa. In his luggage, there was a lion cub that he had found in Sudan. He gave it the name Simba and as he gradually brought more exotic animals back to Sweden, his home became a popular place to visit. Therefore in 1962, the municipality finally opened a zoo to host them. Not surprisingly Borås Zoo was also the first park to include a Savannah where different animals graze together and the park is still the model for many zoos that want to create this kind of habitat.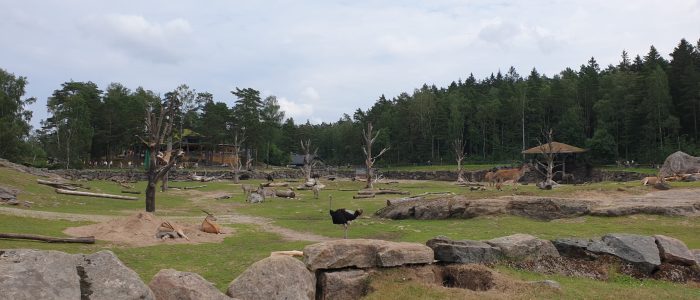 We have collaborated with Borås Zoo for about 15 years already. Like at other settings with a rural feel, our tractors and mini diggers have been a good match. The attractions are in the farm area where visitors stay a bit longer to look at domestic animals, have a snack at the café, buy souvenirs or have fun at the various play activities. The popular playground Simbaland is also close by. Especially the tractors have been immensely popular where they not only have created good play value but also generated substantial revenue.
Based on this success the park, therefore, decided to rejuvenate the area for the 2021 season and invested in both new infrastructure and products. The track was expanded and made more fun and varied to drive. The mini diggers along with another similar attraction were moved to the same location so kids easily can try several attractions while at the same place. From a family's perspective, this is very convenient as siblings or groups of friends can do several different activities at one location in the park while their parents easily can keep an eye on them.
Following the trend in the industry, the park also wanted to move to a cashless payment system and one of the big changes was therefore to change from coins to a token system with an automatic dispenser. The tokens that are sold can be used at all three attractions and it has been possible to buy single tokens or discounted packages. With the change to this system, not only has the park automated the sales but also increased the utilization and revenue.
At the peak of the summer, we visited the park and met with Jesper Jigbring who is the Assistant Operations and Maintenance Manager at the park. His responsibilities include general maintenance and safety in the park as well as construction projects. Jesper has been in this position since April 2020 and hence started right when the Corona pandemic hit the world. We asked Jesper a few questions:
What do you love about your job?
I really enjoy working here at a Zoo. I've got amazing colleagues and we have a strong commitment and team spirit with two common goals. To ensure that our animals are doing well and that our visitors enjoy their stay here.
Can you tell us a bit about the park? Why do people visit Borås Zoo and what areas of the park are most popular?
The park has a familial and cozy feeling, and we offer a complete experience in a calm setting. As opposed to e.g. Kolmården (the most visited Zoo in Sweden) the park is more of a pure zoo and there are e.g. not any action-filled roller-coasters etc. The most popular areas are the Savannah and Simbaland. The Savannah is a pure animal experience, whereas Simbaland is a themed playground. We also offer a new experience where you can be an animal care keeper for a day. This has become very popular as well. 
Let's stop by the tractors and mini diggers. There is a long queue right now…What has made this area so popular and what has the rejuvenation meant?
With the area being themed and the products being consolidated into one attraction, we have noticed that kids get a more complete experience. This has made it more popular than before. The self-service kind of payment has been appreciated both in terms of simplicity and from a Corona perspective. Apart from going cashless, this aspect was also a big reason for us to change to the automatic system we know have.
Speaking of the pandemic… How has the park dealt with the rules and restrictions that this has meant?
We reacted quickly and have been able to keep open throughout the pandemic. Measures we have taken are for example to have more hosts and signs. We have kept some indoor venues closed and for the open ones, we have had hosts to keep order. We have also had slots to steer how many people can enter the park and its venues.
What is your experience with SBI products? 
The products from SBI are easy to use and kids enjoy that they operate them on their own without help from an adult. They keep up well and are easy to maintain. When a problem has arisen the SBI team has been attentive and provided support promptly. The attractions are very popular among the kids and generate good revenue for the park. For us, it was a good move to rejuvenate the area with new products, a redesigned track, and changing to a self-service payment system. Our contact with SBI has also opened our eyes to other products in the attractions industry, and we are curious to see what other additions can fit our theme to be even more attractive as a destination.