When SB International was founded in Sweden in the late 1980s the target was already set on the international market. Doubtfully the founders could even dream of where we are now, with more than 50 countries in our customer base. And counting… The first logo was that of a typical international company. Retro look don't you think?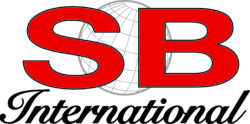 We have rightfully been known in the attractions industry for the concept "Children's Driving School" which we were the first company to conceptualize. The idea, as most of you probably know, is that kids at an early age get to practice basic traffic safety while having a blast driving.
When we launched a new logo some 10 years back, we worked out a logo with a traffic light as a visual element. The logo not only suited our company's major product category but also looked like an "I", as in "International", and gradually we became known simply as SBI.
During the past 10 years, we have transformed further. Our Mini Digger has become a very popular attraction and is now one of our major products. This product is now accompanied by a Mini Tower Crane which together forms the "Building Zone" concept. We have also partnered with other companies to provide a broader range of products and services. Rolled out already is water park equipment and playground equipment.
We are proud of being a Swedish company with production carried out in Sweden. A country that is known for high standards, good design, top quality, and professionalism. So, we simply reference ourselves as "SBI Sweden" which has been our domain for several years already but not reflected in the logo. In our new logo, we also wanted to keep our legacy with the traffic light reference but with a different symbolism that reflects what we have evolved into. Which is so much more than before.
Here's the result! We hope you like it as much as we do!